Gummy Bear Cupcakes are
Beary
Sweet and adds the "M" in "Mmmm".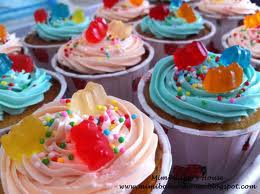 Preparation
Prep Time:10 Minutes
Total Time:20 Minutes
Makes 2 dozen (24 Total)
Ingredients
Any flavor of cupcake mix
Gummy bears
Fruit roll ups
Life savers or peach rings
Blue/yellow sprinkles or blue/yellow icing 
Directions
Follow directions on cupcake mix. Bake.
Cut fruit roll ups into small strips to be used as beach towels.
When cupcakes are cooled, apply blue icing (or sprinkles) to 1/3-1/2 of the cupcake. Apply yellow icing (or sprinkles) to the other side.
Place lifesavers/peach rings in the water (blue icing) and fruit roll up towels on the sand (yellow icing). Place gummy bears in rings and on towels.
Source: Gummy Bear Cupcakes Recipe
Ad blocker interference detected!
Wikia is a free-to-use site that makes money from advertising. We have a modified experience for viewers using ad blockers

Wikia is not accessible if you've made further modifications. Remove the custom ad blocker rule(s) and the page will load as expected.