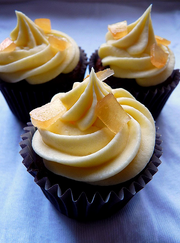 Ginger Cupcakes are one of the most unique cupcake flavors. Ginger Cupcakes aren't the most popular cupcakes, but they are frequently served in some cupcake stores.
Ingredients
Edit
1 1/2 cups all-purpose flour
1 tbsp ground ginger
1 tsp baking powder
1/4 tsp salt
3/4 cup finely chopped candied ginger
1 1/4 cups granulated sugar
1/2 cup unsalted butter, at room temperature
3 eggs
3/4 cup milk
Directions
Edit
Credits: 101Cookbooks.com
Preheat oven to 350 degrees F (180 degrees C). Prepare a muffin pan with paper liners.
In a small bowl, mix together flour, ginger, baking powder and salt. Stir in candied ginger.
In a large bowl, using an electric mixer, beat together sugar and butter until well combined. Add eggs, one at a time, beating well after each addition. Alternately beat in flour mixture and milk, making three additions of flour mixture and two of milk, beating until smooth.
Scoop batter into prepared pan. Bake in preheated oven for 23 to 28 minutes or until golden brown and tops of cupcakes spring back when lightly touched. Let cool in pan on rack for 10 minutes. Remove from pan and let cool completely on rack. Top cooled cupcakes with frosting. Makes 12 cupcakes.