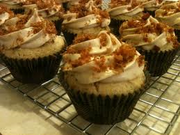 French Toast Cupcakes are sure to make your morning bright. They are inspired from French Toast.
Ingredients
1 box of yellow cake
1/2 teaspoon ground cinnamon
1 teaspoon vanilla
For the frosting
1/3 cup butter, softened
3 cups of powdered sugar
3 tablespoons of milk
1 teaspoon of maple extract
Directions
Credits: BettyCrocker.com
Heat oven to 350°F. Place Reynolds Baking Cups in each of 24 regular-size muffin cups. Make, bake and cool cake mix as directed on box for cupcakes, using water, oil and eggs, and adding cinnamon and vanilla.
In medium bowl, beat butter and powdered sugar with electric mixer on medium-low speed until combined. Gradually beat in milk and maple extract on medium speed until fluffy.
Pipe or spread frosting on to the cooled cupcakes.
Ad blocker interference detected!
Wikia is a free-to-use site that makes money from advertising. We have a modified experience for viewers using ad blockers

Wikia is not accessible if you've made further modifications. Remove the custom ad blocker rule(s) and the page will load as expected.