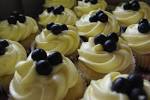 Blueberry Cheesecake Cupcakes are the spin-off to blueberry cheesecake!
Ingredients
For the filling
4 ounces reduced-fat or nonfat cream cheese
1/3 cup confectioners' sugar
1/2 cup yellow squash puree
1 large egg white
1/8 teaspoon salt
For the cupcake batter
1 cup granulated sugar
1/2 cup skim milk
1/2 cup blueberry puree
1/2 cup spinach puree
1/4 cup canola or vegtable oil
1 cup all purpose flour
1 1/2 teaspoons baking soda
1/4 teaspoon salt
Direction
Credits: Jessica Seinfeld for Deceptively Delicious
Preheat the oven to 350 degrees Farenheit. Coat a 12-cup muffin tin with cooking spray or line with paper-baking cups.
For the filling, beat the cream cheese, sugar, squash puree, egg white and salt in a bowl until smooth. Set aside.
For the batter, combine the sugar, milk, blueberry and spinach purees and oil in a large bowl. Beat until smooth. Add flour, baking soda and salt. Mixed until combined.
Using about half the total amount of batter, fill each muffin cup about one-third full. Drop a tablespoonful of the filling on top of each, and cover with the rest of the batter. Bake until the tops of the cupcakes are lightly browned and spring back to the touch, 20 to 25 minutes. Turn the cupcakes out onto a rack to cool.
Store in an airtight container at room temperature for up to 2 days or wrap individually and freeze for up to 1 month.